What's New?
March 14, 2018
We never know how a planned adventure is going to work out until we get to our destination. We kind of had low expectations today going to the Museum of Art and History in Lancaster, CA, but, we were pleasantly surprised when we got there and ended up loving it! For pictures, click here.
March 8, 2018
Today we were in Los Angeles to see the recently opened Marciano Art Foundation in the Mid-Wilshire area. Although we aren't especially keen on modern art, there is a lot to see here and we did like quite a few pieces. For pictures, click here.
March 3, 2018
It's been raining off and on here so we took a short ride to Upland to visit the Cooper Regional History Museum. It's relatively small but it's full of artifacts on the local area. For pictures, click here.
February 25, 2018
We were in Los Angeles today to see one of the great, vintage movie theaters in the downtown area. Our theater was the Theater at the Ace Hotel and it is spectacular. For pictures, click here.
February 17, 2018
We were in Jurupa Valley today to see a 148 year old ranch house called the Jensen Alvarado Historic Ranch and Museum. For pictures, click here.
February 13, 2018
We drove into San Diego County today to see the West Coast Clock and Watch Museum in Vista, CA. The museum is part of the 55 acre Antique Gas & Steam Museum and there's quite a bit to see here. For pictures, click here.
February 7, 2018
Today we drove into East Los Angeles to see the Vincent Price Art Museum. Unfortunately, very few pieces in their permanent collection were displayed, so we were a bit disappointed. There are two temporary exhibits on display, but we didn't care too much for them. For pictures of the permanent collection, click here.
February 4, 2017
We had a great time today at the Bowers Museum in Santa Ana, CA. They were celebrating the Lunar New Year and we also saw their latest exhibit Empress Dowager Cixi. For pictures, click here.
January 28, 2018
We're having a heat wave here with temperatures in the 80s. Lupo loves to sit in the sun on the screen porch. Nice life!
January 24, 2018
We lost a couple of weeks due to our both coming down with the flu, but we were back on the road again today to visit the USC Pacific Asia Museum in Pasadena. For pictures, click here.
January 20, 2018
So far 2018 hasn't been very eventful since both Judy and I have been lying low due to the flu. I got it first around January 6th and Judy was fine until she caught it a few days later. We've both have cabin fever and hopefully we'll feel good enough for an adventure next week. We did get in a little shopping and a nice lunch yesterday in Claremont so we're on the mend.
We've had Lupo for a little over two months now and he is very, very slowly starting to relax. He'll probably never get rid of his skittishness, but at least he doesn't get quite so startled by our moving around the house. However, he's still a pleasure to look at.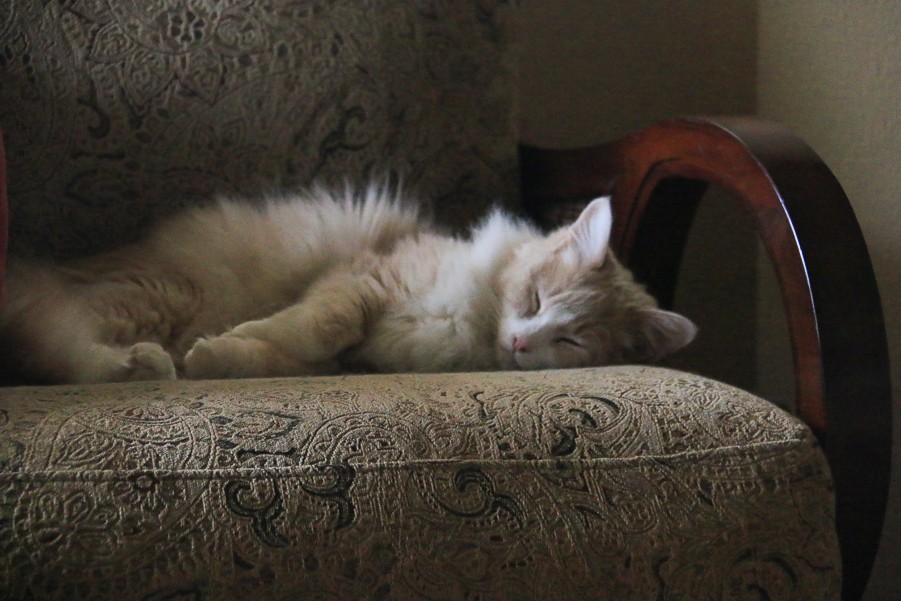 January 3, 2018
We were back in Orange, CA today to visit the Hilbert Museum of California Art. There's a special exhibit of Christmas cards done by Disney artist Ralph Hulett and it's worth the visit. For pictures, click here.